With the weather being so warm and sunny, I've been feeling like playing with lots and lots of colors on projects lately. Today is no exception! We are going to create a colorful, rainbowy background using the wet-on-wet watercolor technique.
Altenew just released brand-new watercolor brush marker set and I've been having so much fun with the colors. This set is perfect for creating a beautiful and bright range of rainbow colors!
The technique I am sharing in the video above is great for any new watercolor enthusiasts who are cardmakers or scrapbookers. It is also a very fun way to test out the colors you have and just let them blend effortlessly.
Any background stamp set is perfect for creating a nice watercolor background. For today's card, I went with the Moroccan Mosaic Stamp Set and heat embossed the whole image. This is a great way to ensure the colors do not go over the lines.
You simply pre-wet the surface you want to work on and drop pigments using the watercolor brush markers. Then you let the water do all the work for you! All you have to do is give a bit of swirl with a watercolor brush to achieve the blended look you want.
Watercolor brush markers with synthetic brush tips are perfect for the wet-on-wet technique, as they work just like a real watercolor brush. You can blend, mix, drop pigments easily.
Another great thing about these markers is that it is a one-way flow, so the brushes don't suck up the pigments on the watercolor paper to contaminate the pigment barrels! You can mix different colors easily with these.
I hope you have fun with these markers! These are great tools if you want to dabble into the watercoloring world without breaking the bank.
SHARE YOUR PICKS
Do you have a favorite color from the Tropical Fiesta set? Share your pick by comment below! You will be automatically entered into fun giveaways!
---
SUPPLIES
See below for all the products used in today's project. Click ATN for Altenew, EH for Ellen Hutson, SSS for Simon Says Stamp, or AMZ for Amazon. I participate in several affiliate programs where I get a small commission at no additional cost to you when products are purchased through links I share here. Thank you for your support!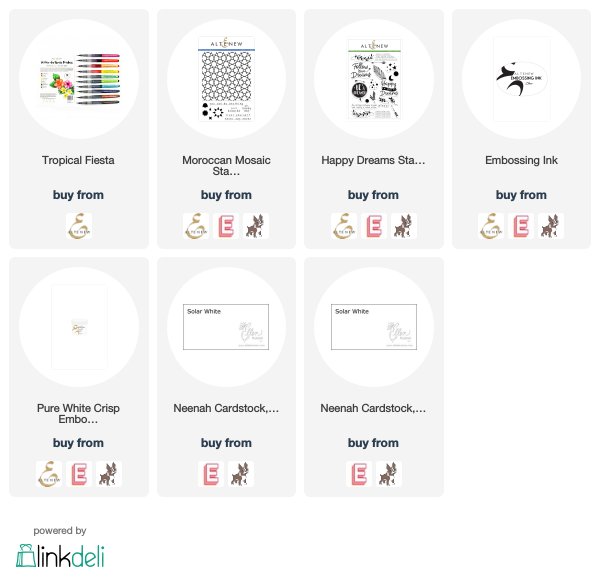 ---
GIVEAWAYS
There are TWO giveaways you can enjoy!
Altenew is giving away SIX $40 gift certificates to Altenew store! Make sure to visit their blog and leave a comment to win.
My blog readers get another chance to win a $20 gift certification to Altenew store! Please leave me a comment below by March 30th, 11:59pm PST. All winners will be announced on the Altenew blogs on 3/31/2019 Good luck!!
---
BLOG HOP
I am participating in a fun blog hop to celebrate today's release! Next stop on the hop is Maria Willis! Make sure to stop by and leave some love for her! Please see below for the full blog hop list.
You might also like