Happy Thursday! Today I have a very quick, clean, and simple card to share with you all using a brand new stamp set release from Altenew. It has become one of my favorites, so let's dive in right away.
I was able to create a simple card with lots of sweet details using one of the stamp sets from this release. This one is called Nature Snippets Stamp Set, and it has these amazing layers to create beautiful nature scenes within a circular frame!
I chose the 2nd largest image from the set that features beautiful blossoms. I know we are still in the middle of winter, but I simply cannot wait for the warm weather to hurry up and come. This card was meant for a couple that is about to embark on their new life together, so I wanted to use a light and sweet colors.
I used Sea Glass, Dusk, and Cotton Candy for the focal point scenery, and stamped the sentiment in Jet Black. A couple of enamel dots were used for a finishing touch. You can definitely omit this part, but I wanted a very small bit of neutral color on the card.
If you ever need help lining up these images, make sure to watch the layering guide video or refer to the layering guide on the back of your stamp packaging. These are quite easy to line up and very forgiving as well, so even if you are new to stamp layering, you will be just fine.
What is your favorite set from today's release? Share your pick in the comment below and you will automatically be entered into a giveaway!
---
SUPPLIES
See below for all the products used in today's project. Click ATN for Altenew, EH for Ellen Hutson, SSS for Simon Says Stamp, or AMZ for Amazon. I participate in several affiliate programs where I get a small commission at no additional cost to you when products are purchased through links I share here. Thank you for your support!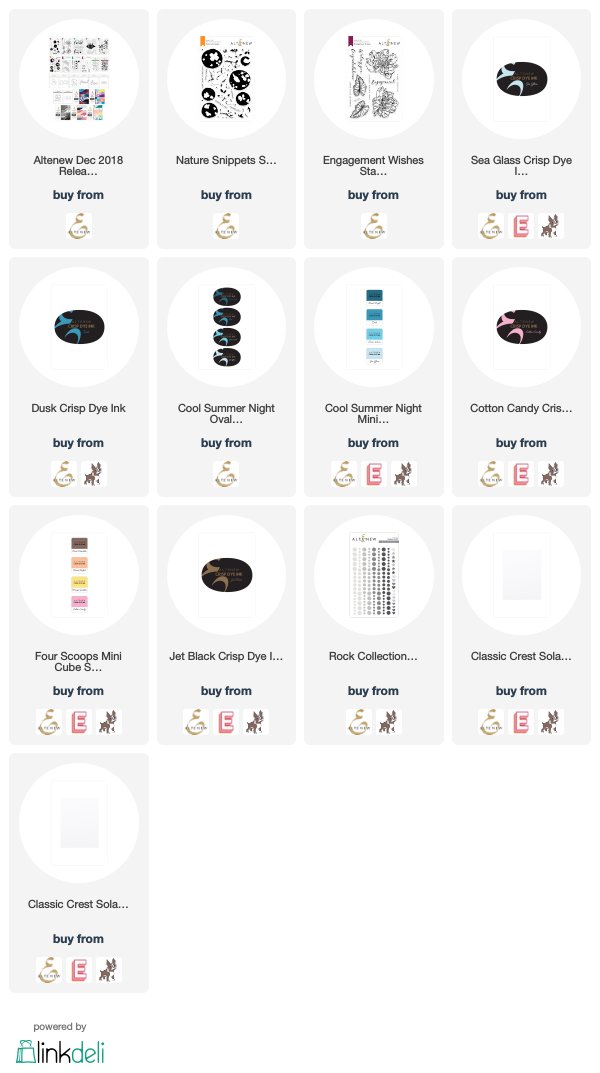 ---
GIVEAWAYS
There are TWO giveaways you can enjoy!
Altenew is giving away SIX $50 gift certificates to Altenew store! Make sure to visit their blog and leave a comment to win.
I am giving away $30 gift certificate to Altenew store! Please leave me a comment below by December 17th, 11:59pm PST. I will post a winner here on the 18th. Good luck!!
WINNER
Congrats, Eva! You are the lucky winner of this giveaway! Please contact Altenew at winner@altenew.com by 12/30/2018 with the subject line Altenew December 2018 Stamp/Die Release Blog Hop Winner from Nicole's Blog to redeem your prize. Thank you for leaving me a lovely comment!!
---
BLOG HOP
I am participating in a fun blog hop to celebrate today's release! Next stop on the hop is Reiko Tsuchida! Make sure to stop by and leave some love for her! Please see below for full blog hop list.
You might also like