I am super excited for today's blog post because it has one of my brand-new favorite stamp set from Altenew's release. I'm so giddy about it, so let's get right into it!
Altenew just released an awesome set of fresh, new designs in stamps, dies, and mask stencils. And these are just to die for- and one of the stamp sets actually is a perfect one to use along with one of my all-time-favorite, Vintage Roses.
Before I share never-ending scroll of projet photos (you have been warned!), let's start with a video tutorial. You can create with me while watching the video tutorial to create the cards shown above!
One of the things that can help you with making your stamped images stand out is to play with color contrast. In today's projects, I used gray/blue/green in one card to help each element stand out while not overwhelming each other. In another card, I simply play with different shades of blue and black to create an eye-catching focal point.
The first card is created with the Antique Roses stamp set and its coordinating die set, and fun patterns from the Dot Art stamp set. This is the card I played with three different color families to pop out the focal point.
I stamped the rose image in blue color layers and the leaves in green layers. To help this cut out stamped image stand out more, I added patterns in two different shades of gray. While it creates a subtle background, it also adds a nice depth to it.
I also added some splashes using the Metallic Silver color from the Winter Wonderland Watercolor Brush Marker Set. Just a tiny bit of splatters add more interest to the card.
Finishing touches were added with some clear sequins and clear drops.
I am really in love with the Antique Rose stamp set – don't you agree? The detailed layers just make the stamp image look so alive!
Next project is created using the same blue color shades but in a different way. Instead of stamping, I did ink blending with these fun blue shades.
Ink blending can be used in many different ways, but I love creating a focal point window for the main image. It sets the tone in such an elegant way in my opinion.
After the ink blending portion, I stamped one of the floral images from the Dot Art set in black to pop it out.
You can create a simple one layer image without adding another "physical layer" to the card when playing with color contrast concept. This will help your main image to stand out effortlessly without making the card bulky.
The sentiment was stamped in dark blue from the same stamp set. I kept it very clean and white to allow the focal point to receive all the attention when looking at the card.
Same finishing touches from the first card were added here as well.
There you go! You can easily create two completely different looking cards using the same stamps and inks.
SHARE YOUR PICKS
Which one is your favorite card from the two? Also, what is your most favorite stamp set from today's release? Comment below for me, I would LOVE to hear your picks!!
---
SUPPLIES
See below for all the products used in today's project. Click ATN for Altenew, EH for Ellen Hutson, SSS for Simon Says Stamp, or AMZ for Amazon. I participate in several affiliate programs where I get a small commission at no additional cost to you when products are purchased through links I share here. Thank you for your support!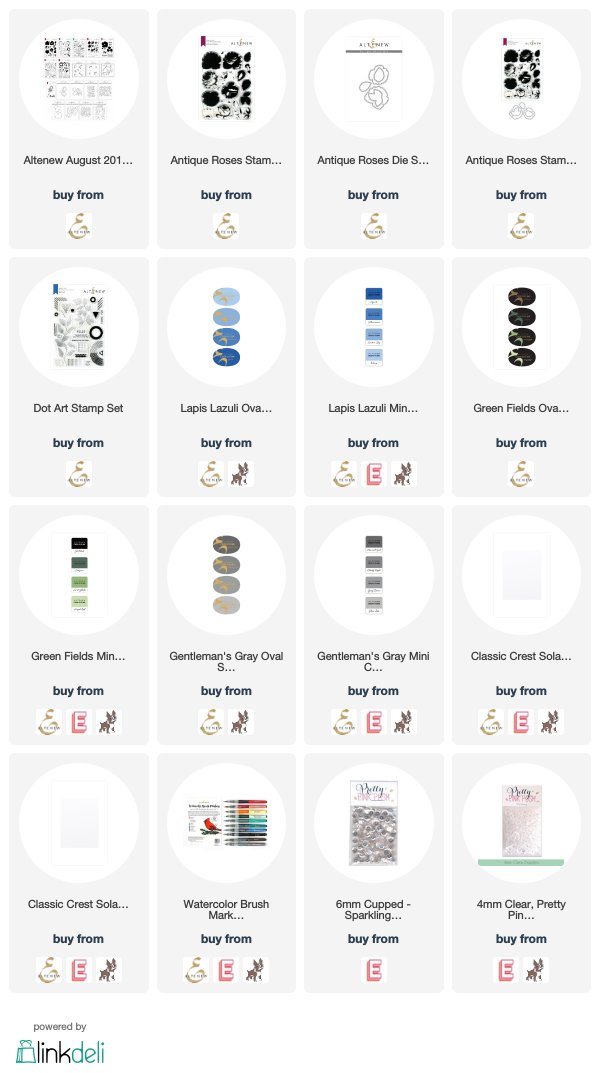 ---
GIVEAWAYS
There are TWO giveaways you can enjoy!
Altenew is giving away SIX $50 gift certificates to Altenew store! Make sure to visit their blog and leave a comment to win.
My blog readers get another chance to win a $20 gift certification to Altenew store! Please leave me a comment below by August 16th, 11:59pm PST. All winners will be announced on the Altenew blogs on 08/17/2019 Good luck!!
---
BLOG HOP
I am participating in a fun blog hop to celebrate today's release! Next stop on the hop is Janette Kausen! Make sure to stop by and leave some love for her! Please see below for the full blog hop list.
You might also like